Our photo-based Video Tour is comprehensive single property website tour of the property featuring our Virtual WalkThru™ Video, complete with selectable music, editable photo transitions and text!  Click here for a sample Photo Tour.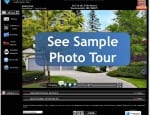 Embeddable Video. The tour with the video can be linked to any website and it can also be embedded into your website, just like this example. Set it to play automatically or force the user to select the play button. Three different sizes of the embeddable video area also available.  Your website must be able to accept HTML code in order to embed the video…but most website platforms do now days.  If you can embed a YouTube video, you can embed our video! We also have a WordPress plugin so you can configure how and what you show with a simple copy and paste! Read more on our Embedded Tour content.

Its not just a great marketing tool – it is a fabulous listing tool. Get the listing every time by showcasing the Interactive Floor Plan Tour at your next listing appointment. Download your demo house tour to your computer and bring it with you – no Internet access required! Click here to read more on how to use FloorPlanOnline in your Listing process.
Prices – see Pricing to learn more about how we charge for our services.
Photo Tours include these great features (click here to see all tour features):
Thumbnail Photo Gallery.
Virtual WalkThru™ video (see sample below).
Printable Flyer.
Area Map with satellite view.
Email tour via Send Link.
Contact You.
More Info links to any URL.
Unique Tour website address.
Branded and Unbranded links.
Download tour and burn to CD.
Link to Realtor.com and other sites (Realtor.com is free for Showcase members, $20 for non-Showcase members of Realtor.com).
Share & Bookmark to Facebook, Twitter, Linkedin and many other social media sites.
Tour hosting for the first year included. $19.99 per year thereafter.
Mobile site viewable on most mobile enabled smart phones.  No application to download or short code to enter.
Embeddable video widget that can be embedded into your blog or property details page, just like on this page!