We are pleased to announce the release of our new Marketing Center layout, which is the centerpiece for how you quickly and easily get access to your FloorPlanOnline Interactive Floor Plan | Video content, both for online and offline use.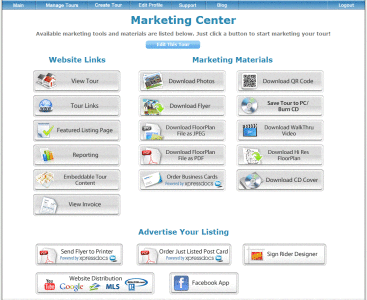 The new marketing center more logically lays out the placement of web links to your Interactive Floor Plan Tours or Video Tours, buttons for downloadable content, such as photos, your flyer or various file formats for your floor plans, and it includes quick access to xpressdocs so you can print your marketing flyers and brochures through xpressdocs and even import the images our photographers take to xpressdocs to use their 1, 2 or 4 page brochures or "Just Listed Postcards"
It also more directly shows you how to set up our Featured Listing app on your Facebook business page and more!
I would like to thank the FPO Dev team in making this new release a reality!
As part of this, we and xpressdocs are offering a 20% discount on your xpressdocs order before June 30th.  To see the coupon code, visit our Facebook page, click the Big Sale image and Like Us, and you will then see the coupon.
One other small improvement.   All of our modern tour templates (excludes the 1.0) now has 2 floor plan views.   You can click the icon to change from the side by side view to an embedded plan view.  This is the icon to the right of Change View.  This makes wider, larger floor plans easier to see. You can move the image around for better viewing as well.   This is also available on the iPad tour.