We have made a few requested updates to the Tabbed Tour viewer. The Tabbed Tour viewer is a template option for your tours, either when you create a new tour (or go to Edit Details) or in your proile. It is also the default viewer when you view the tour content on an iPad.
Several changes were made, as follows:
Default Media View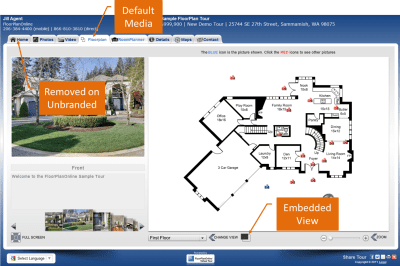 Now, when you select the default media to be the FloorPlan, Video or Photos, that selection will work for the Tabbed Tour.  Previously, it only worked on the 2.0 Web Page Tour.  The Dashboard view for the Tabbed Tour is the Home Tab.
For the Unbranded Tour, we also removed the top Header, so there is no contact info showing (previously it showed our branding).  One little fix to be done is add the Address to the Details tab, since that was showing up in the header.  That will be fixed in the next day or so.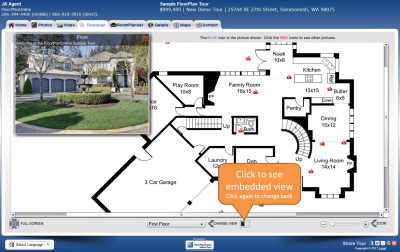 Embedded and Side by Side FloorPlan Views for Interactive Floor Plan Tours
Both the Tabbed Tour and the Web Page tour now support two floor plans views.  The default is the photos side by side the floorplan.  However, you can now click the icon next to change view, and it changes to the embedded plan view.  Here you can move the image around and zoom in on the floor plan so it fills the whole content area.  This is helpful for very large and wide floor plans that might have had issues.
To use the tabbed tour for any of your tours, just go to Manage Tours, then click Edit Details for a tour.  Select the Tabbed Tour as the Tour Frame Type at the top of the page.  If you want to use this for all of your tours going forward, go to Edit Profile and make the selection.  Next time you create a tour, it will default to that view.  To default to the floor plan view for any or all of your tours, scroll down to the section titled Content Display Options and select the desired content under Show by Default.  You can do this on the Edit Details page or Edit Profile page.  
Enjoy!